Lion has a theory that the sores on my weenie were caused by the cage. He thinks he may be getting pinched or nicked when it goes on or off. I'm trying to remember if he had sores when we were using the Jail Bird. I think he did. When he got pinched with that, I don't think it was in the same area. My theory, if the sores are from the newer cage, is that there's a rough spot on the headlock that doesn't exist on the newest incarnation even though we've been very careful recently. I still need to examine the other cages to see if my theory is correct.
The thing I've thought about with each version of the Cherry Keeper, is if the requirement that Lion has to ask me for each new purchase applies only to new, new purchases or if it applies to any purchase. I can see the argument for it being just different variations of the same purchase. I can also see the argument for it being more stuff accumulating on his nightstand and that is clearly a new purchase each time.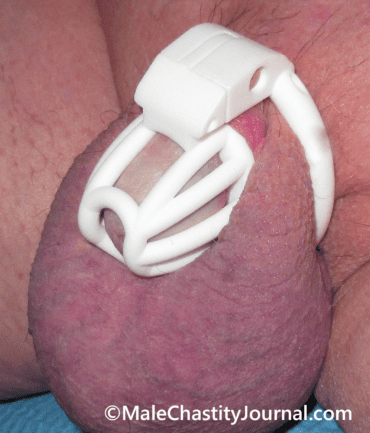 Ultimately I want him to have a good fit. However, I dislike the headlock idea. Maybe I just dislike the last two or three versions with the extreme headlock. I know my weenie is pliable but jamming the head into a small hole is just asking for more sores. And whomping his butt is one thing, jamming my weenie into anything is not something I want to be a part of. If he wants to continue wearing the Cherry Keeper with the narrow headlock then maybe he needs to deal with the cage by himself. How many times has Lion said that if you need lube to make the cage comfortable, it's the wrong size? I know that was in relation to the actual wearing of the cage, but to me it's the same thing.
[Lion — I don't think a little lube on the head of my penis to make it easier to fit through the headlock is the same thing. The headlock has been very successful keeping my urethra centered in the opening provided for it. I've been able to pee standing up with no mess or spray. I'm hoping Mrs. Lion will let me continue using this feature.]