Male pubic hair: like it or lose it?
If you asked this question 15 years ago, chances are good that both men and women would vote to keep it. In those days a lot of people equated male body hair with masculinity. Men without body hair were somehow "feminine". This idea has faded along with the 45 RPM record. Body hair, particularly pubic hair, has fallen out of fashion.
Manscaping isn't an all-or-nothing practice. It can range from a simple pubic trim to full body waxing. Here are some of the more popular styles:

Bare Balls Keeping the boys hairless is one of the most popular manscaping activities. Women generally react negatively to hairy balls. Some don't like balls at all. That's their problem. I want to keep mine. Shaving and waxing are the best ways to keep the boys in the pink. Chemical and laser hair removal are extremely painful down there. I had laser treatments. Even with a topical anesthetic, the treatments burned like hell.
Waxing only hurts the first couple of treatments. Each treatment keeps the hair away for about a month. Over time, the hair grows back thinner.
This is how Mrs. Lion does me.
The Trim Almost all women surveyed (over 80%) preferred trimmed male pubes to wild bushes. Before I went Brazillian I trimmed to about 1-inch. I liked the look. At one point I stopped trimming and my partner at the time was upset at all the hair. She tied me to the bed and shaved off all of my pubic hair. Obviously she had strong preferences. Once a week as long as we were together she shaved my front and back. I kept it up since then. Had I kept trimming I probably would still have hair down there.
Neatly trimmed pubic hair sends a message of good personal hygiene and grooming. Any length under three inches gets good marks.
Do the Samba Since I have frequently bottomed, hair can get in the way in front and in back. A Brazillian is the removal of all pubic hair as well as any hair on the ass and in the crack. We didn't know it at the time, but that is what my partner gave me. I like the way it looks. It also has practical benefits. Removing crack hair makes it much easier to stay clean back there. The hair picks up stuff when you poop. Bare skin is easier to keep clean. There is a downside: Farts are louder without the muffling effect of hair.
If you want to wear a chastity device or cock ring, pubic hair gets pulled and tangled in the hardware. Staying bare there not only improves how you look when wearing a device, it also avoids those nasty hair tugs when the hardware gets tangled in your pubes.
Chest and Pits For the longest time I restricted my manscaping to the Brazillian. At one point not too long ago, I wondered how I would look with a hairless chest. My chest and tummy never had all that much hair, at least that's what I thought. Mrs. Lion waxed me in front and I was surprised and delighted by the results. I discovered my nipples are very small. The hair made them appear larger. I like them better hairless. I think the smooth front looks very nice. Mrs. Lion doesn't care either way. Oh well.
I also asked her to wax my arm pits. Every so often I had trimmed and sometimes shaved my pits. The hair is very light and straight. I never liked how it looked. Having them hairless initially worried me that I would look too feminine. After a short time, I decided that I don't care. I like the look. It looks clean to me.
Back and Shoulders Even back in the old days, men had their backs shaved. Very few women like hairy backs. Fortunately, mine has never been hairy. Mrs. Lion waxes my back and shoulders when she does the rest of me. It keeps the look uniform.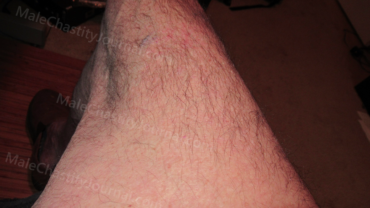 Legs Until recently, I never did anything with my leg hair. I have pretty hairy legs. The only manscaping there was removing the hair on my thighs about halfway to my knees. That looks better with the Brazillian. The start of hair contrasting with bare skin elsewhere looked a bit odd to me. I asked Mrs. Lion to wax my legs. My thighs look much better without hair. My knees and below look a bit strange to me. Mrs. Lion can't decide which way she likes them best. I lean toward keeping my legs hairless too. However, I'm fine being hairy there if that's what she prefers.
The general consensus is that men should do some manscaping. At the least a pubic trim is in order. Hairless balls are generally appreciated. Beyond that, it is a matter of taste. I like the way I look now. Mrs. Lion likes the look too. Manscaping is a good topic for a couple to discuss. If you haven't talked about it, bring it up. It may cost you some hair.
(Visited 1 times, 1 visits today)