Mrs. Lion is under the weather. She's been off her game for the last few days. I finally convinced her to see her doctor. She is horrible about getting care for herself. She has been taking daily COVID tests and is negative. I worry about her. She's everything to me. I'm glad that she's going to get checked out. Obviously, nothing is going on in the sex or spanking departments. That will have to wait until she is better.
I got a new training collar. It has a dedicated controller that is good for over a half mile. I can wander pretty far and still be within Mrs. Lion's control. The manufacturer claims the receiver battery will last for 10 days between charges. That will come in handy when the collar has to stay on 24/7.
There are some other things I like a lot. The first is the price. It's only $39.89 USD. You can find it here. The second is that it is very easy to fit. The strap loops around the back of the receiver. The strap has a snap lock. One end is sewn on (female). The other male end is put on like a standard buckle. Simply trim the strap, use a match to seal the end, and attach the buckle. Voila! You're done. It took less than ten minutes from start to finish.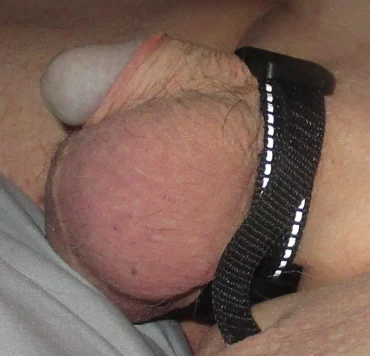 The receiver comes with two sets of contacts: short and long. I started with the long contacts. They hurt after a while. I switched to the shorter ones. They are comfortable and make very good contact. Before she got sick, Mrs. Lion tested this collar with me. It works very well even with shorter contacts.
There is a vibration mode in addition to shock. She likes to use that mode to say "Hello." It can also be useful as a warning. If you want to play with this high-tech form of male control, this may be the best bargain out there.