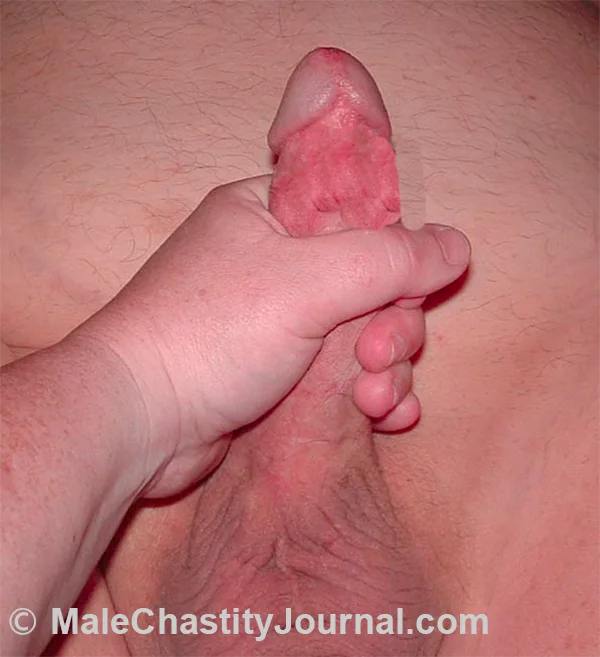 As I've written, Mrs. Lion lost interest in sex for herself some time ago. It's been almost five years since I've had vaginal intercourse. I'm lucky that my lioness is willing to provide oral and manual release for me. I don't masturbate, so I am dependent on her for release.
For the last nine years, we've been practicing male chastity. I was locked full-time in a male chastity device for the first several years. That's what trained me not to masturbate. I lost interest in it, and now, even wild (no male chastity device), there is no danger that I will jerk off. Since she isn't driven by her need for sex, my orgasms are arbitrarily spaced out by her and my slowing sexual clock.
Many of our readers are aroused when they think about orgasm control. I certainly was when we started male chastity. The idea is still exciting to me when I think about it. Most of the time, it doesn't cross my mind. It's just the natural course of things for me. That may be hard to understand if you are new to male chastity, but after all these years, it's all I know.
I do think about fucking. I love how it feels to have two-person sex. I'm not fixated on it. Just as I've accepted orgasm control, I've learned to feel good about my limited sexual menu. Every so often, a sex toy company will contact me to test their stuff. I've tried a variety of male masturbators. So far, none get me very aroused, much less get me off. In case you're wondering, I would never go all the way with one of those toys unless Mrs. Lion allowed it. That hasn't been an issue.
There seems to be something new in the world of male masturbators. Many of them seem to include suction. They have vacuum pumps that cause the silicone sleeves to grab the penis. Suction was one feature of the old Venus 2000. That device is the only one so far that could reliably get me off. I'm not counting the Magic Wand vibrator since that requires an operator. Mrs. Lion sometimes uses it to make me come.
The addition of suction makes these new devices function as a penis pump. Penis pumps are sleeves that go over the penis. Then, a pump is used to remove some of the air in the sleeve. The resulting lower air pressure makes it easier for blood to flow to the penis. It can help produce an erection. It can also temporarily enlarge the penis. This vacuum effect is what interests me about these new devices. Perhaps I'll review one.
Based on my mail over the years, there are a lot of guys whose wives lost interest in sex. Some even grew to dislike penises. That puts the male half of the couple into a bit of a bind. Some guys try male chastity as a game to get their wives to show some interest in sex. It's a difficult situation. I'm very lucky because Mrs. Lion is happy to get me off.
I'm not sure what would happen if she refused any form of sex. I would be very unhappy. It's good that she is so loving and hasn't lost her taste for penis.