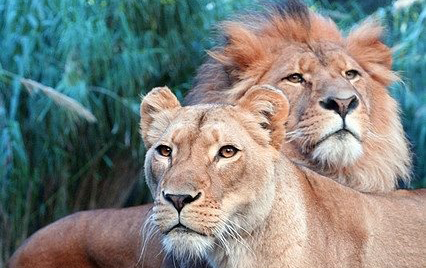 I felt much better last night than I did the night before. I gave Lion the beginning and middle of a blow job. That might have been a mistake because my head started hurting part way through but I was determined to get him close. I was fine after I stopped. Lion wasn't.

He wanted more. He didn't necessarily want to come. He just wanted the feeling to continue. He loves it when I give him oral sex. I told him he was greedy. He isn't. While I don't know exactly what it feels like, I can imagine something that feels so good you want to crawl inside and live in it. And you never want that feeling to end. Maybe an orgasm would actually be a letdown.

This morning I was thinking about taking care of Lion. I took care of my parents. They were handicapped so they needed lots of help. I took care of my kids. And now I take care of Lion. And I wondered when someone was going to take care of me. That's a selfish thought. Lion does take care of me. My parents took care of me. And what's even more interesting is that I tend to get annoyed when people try to help me.

We watch the sitcom "Mom" in reruns a lot. We've never been able to figure out if the mom the series is named for is the mother or the daughter, but when the mother helps out around the house and takes care of her grandchildren, the daughter gets annoyed. I understand that feeling. I can't explain it, but I understand it. Sometimes when Lion does things, I get annoyed at him. It's not because he's doing anything wrong. He's helping. It's not because I think I can do it better. I really can't explain it. I just know I get annoyed sometimes when people help.

Ironically, I get annoyed when Lion doesn't help. If I'm left to do all the cooking or when he doesn't come out to dry off the dinner dishes like he used to I'm a little peeved. On the other hand, I understand that he can't always see well enough or balance well enough to venture into the kitchen, let alone cook.

I know. I'm hard to figure out. Imagine what it's like to live with me. Poor Lion!
[Lion — Don't feel sorry for me. Mrs. Lion is wonderful and easy to live with even if she teases me until I am humping the air.]
(Visited 1 times, 1 visits today)